Responsive Booking Engine and Point of Sale Standard with Rezgo 6
After significant development, Rezgo is pleased to announce the release of Rezgo 6, the latest version of the leading tour and activity operator software designed to address the specific needs of a multi-device universe.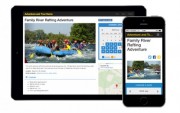 Vancouver, Canada, October 23, 2014 (Newswire.com) - Starting immediately, Rezgo member companies and their customers can now make both web bookings and point of sale bookings using a brand new responsive interface. Both the web booking engine and the administration system have been completely redesigned to support a multi-device universe. Rezgo users can expect an effortless management experience that gives them fast and easy access to customer and booking information, no matter what device they use.
The new version of Rezgo comes after almost nine months of focused development. In addition to the new responsive framework, Rezgo 6 also includes many new and enhanced features including vast improvements in infrastructure to support global expansion, increased numbers of suppliers, and distribution opportunities.
With the launch of Rezgo 6, we are reshaping the landscape of supply side systems for the tour and activity industry.

Stephen Joyce, CEO & Co-Founder
"Rezgo 6 takes all the best elements of Rezgo and its seven years of research and development, and makes them better," said Stephen Joyce, CEO and co-founder of Rezgo. "Tour and activity suppliers around the World depend on Rezgo to manage their businesses. Rezgo 6 gives them the tools they need to run their tours more effectively and a brand new interface that can be used on any device."
The hundreds of tour and activity providers who use Rezgo have had their online booking engines updated to the fully responsive version. The customer booking process has also been improved greatly, allowing travellers to book tours and activities in only a few simple secure steps on any device ranging from Retina laptops, tablets, and smartphones.
"With the launch of Rezgo 6, we are reshaping the landscape of supply side systems for the tour and activity industry." adds Mr. Joyce "Our goal is to make it easy for tour and activity operators to adopt and use online systems, and to improve the overall booking experience for travellers Worldwide."
About Rezgo
Rezgo is the easiest and most powerful way to manage a tourism business. The platform helps tourism businesses to manage their inventory, accept online bookings, and process payments. Rezgo offers the most comprehensive suite of tools for tour, activity, and attraction operators. Tourism businesses currently using paper calendars, spreadsheets, or even less sophisticated online booking systems can sign-up for Rezgo at www.rezgo.com and start taking bookings in less than a few hours.
Share:
---
Categories: Business Technology, e-Commerce, Travel, Business Travel
Tags: booking engine, tour operators, tourism businesses, tours and activities
---